PAYMO 4G SMART WALLET
Paymo 4G Smart Wallet is a hub which integrates different systems and technologies for payment and financial exchange. Allowing you to use a single device to securely manage all of your transactions.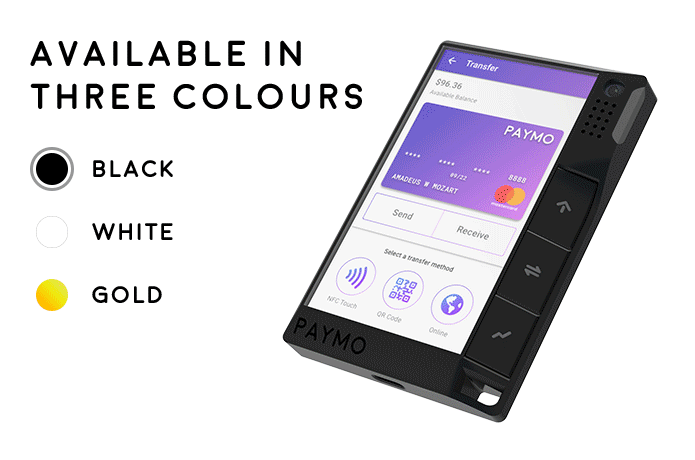 Paymo 4G Smart Wallet
Quick Facts
Small and sturdy smart wallet with 4G and WiFi connectivity. Access online banking and receipt scanning services with over 30 days of battery life of normal use
Make NFC contactless payments using stored credit / debit cards and G Pay

Make payments and transfer using WeChat Pay and AliPay through QR codes

Store all your travel, vouchers and loyalty cards in one place
Store your digital keys for secure access to smart lock-enabled homes, hotel rooms or cars.
Take credit and debit card payments using merchant account

Easy quick access to main functions using 1-click action keys for payment, transfers and balance checking

Switch between secure and battery efficient Wallet Mode, or full Android Phone mode with SIM Card calling capabilities.
DEDICATED KEYS
Quick access to main functions using 1-click action keys for payment, transfers and balance checking.
Keys are programmable, so you may assign them to open your preferred applications.
TOUCH To TRANSFER
Two Paymos can exchange funds between them through Paymo's 'Touch to Transfer' feature.
Collect or Receive funds for the next round, tip a busker or pay back a friend swiftly with this feature.
INTEGRATED SECURITY
Fingerprint sensor allows only authorised use of the device. You can give the Paymo for family or friends to use by adding their fingerprints, with options on restricted usage to desired functions or spending levels.
WALLET & PHONE MODES
Wallet Mode runs verified finance and payment apps; only being powered-on when needed; leading to great battery life and the security of a cold wallet.
Phone Mode allows use as a mini smartphone, running Android OS with phone calling functionality and full use of all apps. Payment capabilities are maintained through GPay.
Smart cover
Paymo's Smart Cover switches off the device when the cover is closed and wakes it up when it is opened again, further enhancing battery life.
If you prefer, Paymo has an Anchor Point that allows you to attach it to straps or bracelets.
| | |
| --- | --- |
| Wi-Fi | 802.11a/b/g/n |
| GSM | Yes |
| CDMA | Yes |
| WCDMA | Yes |
| LTE | World-wide modem (Cat-4 DL / Cat-5 UL) |
| VoLTE | Compatible |